The secret to a relaxing BBQ is closer than you think!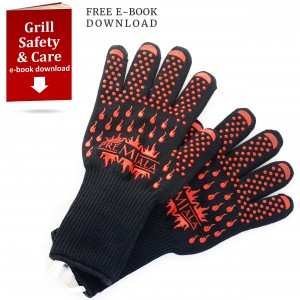 Why is it so hard to find a BBQ glove that JUST WORKS?? Let's face it, grills and ovens get pretty hot so you NEED gloves; but those brightly-colored silicon gloves get so hot and sticky inside you can't keep them on for long. Plus they're so slippery (it's silicone, right?) you waste precious time taking them off and on while your steaks overcook, and they're so thick it's like trying to move your fingers in a pot of honey! Do you really need that stress when you just want to relax and enjoy a barbecue??

At last there is a solution!
Premiala has combed through dozens of glove suppliers and eventually connected with a small top-end weaving specialist to help craft their latest creation – the ArmorGlove!
A Tool, Not A Toy
The ArmorGlove by Premiala is woven from Kevlar Aramid 1313 and is certified to EN407 Class 4 (the highest rating available), meaning it will withstand a massive 932 deg F (500 deg C) for up to 15 seconds! It's the same material as firefighter's suits so you can GUARANTEE it'll be up to mundane tasks like cooking a BBQ, taking dishes from the oven or handling hot coals! It's impregnated with high-grip surfaces to ensure that sizzling steak or heirloom dish from Grandma never slips through your fingers. The long cuff ensures your wrists stay cool while you're reaching to turn over those sizzling kebabs, and the fine stitching ensures you can still feel all the detail while you're doing it! Finally, your hands will so love the comfort of the smooth moisture-absorbing cotton inner lining that you'll never need to take them off!
Uses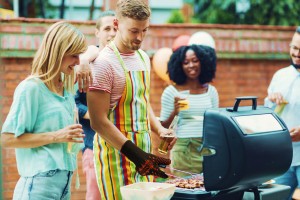 BBQ'ing
Taking hot dishes from the oven
Changing light globes
Welding
Handling hot coals
… anything involving dry heat!
Benefits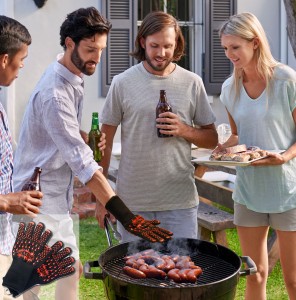 Protects your hands from high temperatures, preventing dangerous burns
Allows you the freedom to keep cooking with the gloves on
Includes FREE download of "Grill Safety and Care" e-book, valued at $17.95
Features

High Temperature Resistance
There's nothing worse than wearing a set of 'heat-proof gloves' and burning your fingers on a sizzling steak after a couple seconds! These gloves are made from the same stuff as firefighter's suits and are rated to a massive 932 deg F (500 deg C) for up to 15 seconds! Create with confidence!
Long 3" Cuff For Maximum Protection
We've all had the experience of wearing a cute set of gloves while turning chops. You reach over and can't feel much until your arm passes over the grill and then BAM! What's the use of having your hands protected if your wrist gets burnt? We protect three inches of your forearm with our glove. It's long enough to protect but not so long that it's hard to get off.
Comfortable Inner Liner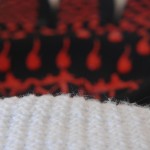 Thick silicone gloves might be waterproof but they don't breathe, and after a few minutes over a hot grill you really have to take them off. Only the AmorGlove uses BreatheWeave – a stitch pattern tight enough to repel the heat but broad enough to allow moisture to evaporate. Plus, the cotton liner absorbs any sweat which does build up to ensure you can keep these beauties on while you work. Try doing that with a solid silicone glove!
High-Grip Surfaces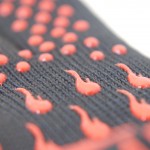 Have you seen those brightly colored silicone gloves for sale? They look great in photos, but silicone isn't exactly known for its grip! As soon as you get oil on those it's like trying to catch a fish with your bare hands! Don't risk dropping that perfect steak or expensive dishes with oily silicone gloves – get a grip with the ArmorGlove and work in confidence! Note: ArmorGloves are NOT waterproof so should not be used for handling hot liquids.
Keep Them On!
When you put all these features together, you get a glove you can leave on the whole time when cooking! This means you can spend your time watching the grill or chatting with friends, rather than wasting precious time taking gloves on and off!
"Grill Care and Safety" eBook Included
If you love your grill you'll love this e-book, provided as a gift to all buyers of The ArmorGlove! Written in conjunction with acclaimed US grilling guru and media personality Kent Whittaker, this guide will teach you how to use, clean and care for your grill or smoker to ensure optimal taste, best performance and maximum lifespan! Download your copy of "Grill Care and Safety" today!
Lifetime Warranty
Amazon offer a 30 day guarantee on all products sold through their sales platform. If you have a warranty claim within 30 days of purchase please contact Amazon. Beyond this period, please contact us and we will be happy to assist you with any warranty claims.
Where To Buy?
Save
Save
Save