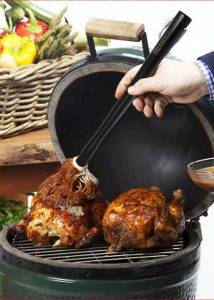 Are you sick of dry, chewy meat you can nearly break your jaw on??
Nothing's more disappointing than a top quality steak or kebab that looks great on the grill but on the plate is bland and tough as old gum! It's a downer for you, and it's sure an embarrassment when your guests take their first bite!
Ensure this never happens again with the Premiala Basting Mop Kit – it's purpose-designed to replace the moisture lost in cooking to ensure your BBQ'd meats are bursting with flavor!
We partnered with one of Italy's top BBQ competition teams to work out exactly what a basting mop needs to do – these guys actually teach others how to BBQ so they know their stuff!
What The Experts Said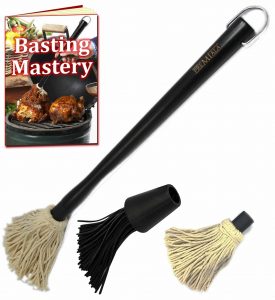 Among many details they helped design in this kit, they told us it was really important to provide cotton AND silicon heads – they're different tools for different situations, and experts need both. So we designed a single mop with removable heads, included a spare cotton head, and ensured we sold spare cotton heads so your investment keeps on giving! They were also very specific about things like the length of the handle, the mop pile type and length and the hanging loop.
Finally, they helped write the world's best instruction manual on the subject – 'Basting Mastery' – it's a detailed e-book with competition-winning recipes and it's provided to you free of charge with your purchase to ensure you get the best possible results!
Premiala's Basting Brush Set is the perfect companion to Premiala's hugely popular Meat Injector – the Basting Brush treats the surface of the meat, while the Injector pumps flavor inside the meat. Together, they're the perfect set!
Why Choose Premiala?
WHILE OTHER BASTING BRUSHES force you to choose between a cotton or silicon mop and won't sell you replacement heads, Premiala's basting mop kit gives you TWO COTTON heads, ONE SILICON head and has SPARE HEADS available. This means your Premiala basting mop is an investment, not a consumable purchase!

STAY SAFE WHEN BASTING – with a total mop length of 19" / 48cm, and a full 14" / 34cm just in the handle, you can be sure you won't get burnt while basting up your next creation!

YOUR FAMILY AND FRIENDS WILL LOVE YOU at your next BBQ when you serve up SUCCULENT meat encased in a SHELL OF FLAVOR and full of moisture! Premiala's basting kit allows you to slather marinade over BBQ'd meat to ensure a flavor explosion!

PREMIALA IS ALL ABOUT ENABLING people who love making great food. We work with people who love to create, design, innovate in the kitchen and need the absolute best tools to unleash their inner passion. We demand the best, and we exist to serve those who expect the same – so we choose better materials, better design, better packaging, and provide better instructions, to provide you the ultimate in performance.

LIFETIME WARRANTY AVAILABLE – Your basting kit comes with a 12 month warranty – but join Premiala's VIP Club and get a LIFETIME warranty on your basting mop! (excludes cotton mop heads which are consumable parts)
Features

Long Handle for Maximum Heat Protection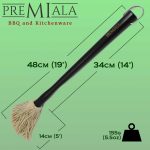 With a total mop length of 19" / 48cm, and a full 14" / 34cm just in the handle, you can be sure you won't get burnt while basting up your next creation!

Cotton PLUS Silicon Heads
Cotton and silicon are both great basting materials in different situations, but which one do you buy? Simple – purchase the Premiala Basting Kit and you get the best of both worlds! We provide TWO cotton mop heads and ONE silicon mop head.  To swap the heads and transform to a new brush, simply unscrew the old head, screw on the new one and start creating!

Spare Mop Heads available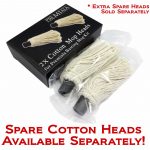 If you do your research, you'll find most manufacturers don't sell spare mop heads either because they can't be bothered or so you have to keep buying another complete new mop from them. Not with Premiala! You see, Premiala products are an investment, they're not a throwaway purchase, and we design them to last for a LOOOONG time! That's why we always provides spares of any part which wears out and are happy to spend the extra time creating spare parts. For example, with our Meat Injector we sell spare o-rings and spare needles; and here with our Basting Mop Kit we sell spares of the cotton heads as they have a limited lifespan!
'Basting Mastery' eBook Included
The experts who helped design the Premiala Basting Mop Kit also helped write the world's best instruction manual! It's called  'Basting Mastery' – it's a detailed e-book with usage instructions and competition-winning recipes, and it's provided to you with your purchase to ensure you get the best possible results!  Download your copy of "Basting Mastery" once you receive your Basting Kit and you'll be basting like a pro before you know it!
Each Basting Kit Contains: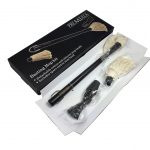 1x 14" (34cm) wooden handle
2x 5″ (14cm) cotton mop heads
1x 5″ (14cm) silicon mop head
1x free download of 'Basting Mastery'
Access to Premiala's exclusive VIP club
Lifetime Warranty Available
Amazon offer a 30 day guarantee on all flavor injectors sold through their sales platform. If you have a warranty claim within 30 days of purchase please contact Amazon. Beyond this period, please contact us and we will be happy to assist you with any warranty claims.
Say NO to Bland and Boring
You've suffered dry meat for long enough – make life that little bit better with delicious meat that's FULL OF MOISTURE and LOADED WITH FLAVOR inside and out!  But don't delay, these never last long! Click one of the links below to buy, and we'll help you look forward to years of succulent BBQ!
Hit one of the links below before they sell out again, then start planning a panorama of flavor possibilities to enjoy for years to come!
Where To Buy?
Gallery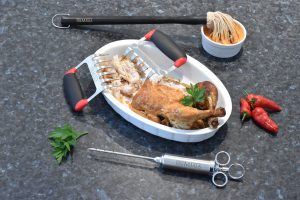 Save
Save
Save
Save
Save
Save