DOES A BBQ KING USE RUSTY TOOLS?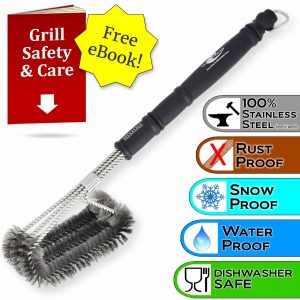 You already know a clean grill gives you food that's free of unpleasant flavors, bacteria and carcinogens from previous grill sessions.  But you're the boss – so why put up with a cheap brush that takes forever to do the job or goes rusty after the first use??
You deserve better!
Premiala's Stainless Grill Brush is the only grill brush using premium 304-grade stainless steel.  Most competitors use cheap and nasty galvanised steel which rusts the first time it gets wet!  Not with Premiala's beauty – it'll take rain, hail, shine, sun, salt, sleet, dishwasher, and stay looking great for years!  Its stainless steel bristles wrap all the way around the three cleaning heads, make it a cinch to scrape away old food from anywhere with minimum effort; and the strength clamp ensures all three heads stay on track, giving you a clean grill every time!
Things You Will Love: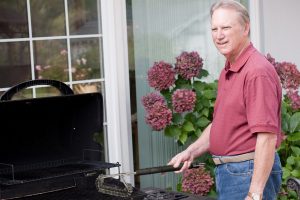 Great looks and maximum lifespan from a brush that NEVER rusts!
Faster cleaning thanks to triple head design
Easier cleaning in all directions from bristles that wrap all around
Long handle offers heat protection
Prevent nasty flavors and harmful bacteria with a sparkling grill!
Features
100% High-Nickel Stainless Steel Structure
Beauty's more than skin deep! As the name implies, every metal component of the Premiala Stainless Steel Grill Brush is just that – pure stainless steel! And not just any stainless steel either – of the few other manufacturers who bother with stainless steel, most use cheap nickel-free 'stainless steel' like 401, 410 and 430 grade which still rust when wet. Premiala uses high-nickel food-safe 304-grade (18/8) stainless steel for the structure of the brush, and tough 201-grade (18/4) stainless steel for the bristles. This gives you the highest quality brush available on the market.
Most grill brushes just use cheap galvanized mild steel for the body. Read on to find out what's wrong with that!
Guaranteed Rust-Proof, Waterproof and Snowproof!
That's what all that stainless steel gives you! Grill brushes have a tough life – they get pushed and dropped, scratched and scraped, they even get left outside in the rain and snow! You want a brush that says 'Meh' to all that. Treat this brush as hard as you want, it'll never rust; which means a Premiala Grill Brush is an investment in a clean BBQ, not a consumable toy. Most brushes use cheap galvanized mild steel for the body – and as soon as this gets wet the surface starts to corrode. Once that thin galvanizing has corroded through the base metal starts rusting. Not with Premiala's brush – it's rust-proof stainless steel all the way through – there simply IS NO coating to get scratched off, or rust through. The actual base metal is rustproof, so you know it'll go the distance!
Don't just take our word for it though… check out some of the testing we did when developing this brush to make sure you get the best of the best!

Long 45cm body for easy of use
At 45cm, or 18″, the Premiala Grill Brush is a large brush. But this means you can stay well away from the hot grill when you're cleaning. The handle itself is 25cm long, which gives you plenty of room to hold and grip it.
Dishwasher safe
Grill brushes can get pretty filthy, especially if you clean the grill while it's still hot. The easiest way to clean it up is simply to throw it in the dishwasher – but brushes made from mild or galvanized steel will be covered with corrosion after a trip through the dishwasher. Premiala's Stainless Steel Grill Brush gives you the peace of mind you can clean it up however you want and it'll stay looking as good as the day you got it!
"Grill Care and Safety" eBook Included
If you love your grill you'll love this e-book, provided as a gift to all buyers of The ArmorGlove! Written in conjunction with acclaimed US grilling guru and media personality Kent Whitaker, this guide will teach you how to use, clean and care for your grill or smoker to ensure optimal taste, best performance and maximum lifespan! Download your copy of "Grill Care and Safety" today!
Lifetime Warranty
Amazon offer a 30 day guarantee on all products sold through their sales platform. If you have a warranty claim within 30 days of purchase please contact Amazon. Beyond this period, please contact us and we will be happy to assist you with any warranty claims.
Gallery
Where To Buy?
Save
Save
Save
Save