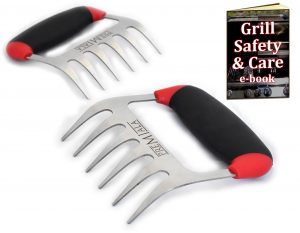 Are you sick of flimsy meat claws that bend more than they shred??
You know the scene. You've got a side of pork smoked to perfection, the guests are ready, and you're ready to shred it up with your plastic meat claws and reign supreme – but instead of ripping that meat apart, the prongs on those cheapie plastic claws bend and flex, deflating the whole occasion while the guests roll their eyes!
Say "Never Again" to claw disappointment – upgrade today to Premiala's Stainless Steel Meat Claws and show them you know your stuff!
After suffering dozens of plastic claws we knew there had to be a better way – so we designed the solution and now you can share it!
The Better Way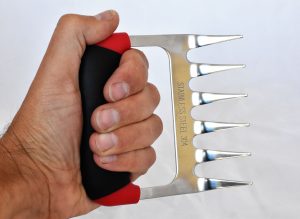 The heart of Premiala's Pulled Pork Shredder Claws are a full 2mm thick plate of food-safe 304-grade stainless steel – those prongs will NEVER break, and you can be confident they won't taint your food like some plastics can!  The handle, meanwhile, is a perfectly moulded oval to match the shape of your hand. It comprises a solid ABS core slathered in a thick layer of food-safe rubber, giving it a luxurious soft-touch and providing maximum grip even when wet or oily!  Only the Premiala Beef Shredder Paws give you the peace of mind knowing your food's being shredded by 100% food-safe 304-grade stainless steel.
Why Choose Premiala?
SAFER – unlike the competition who use various plastics, Premiala's Meat Claws are created from FDA-approved food-safe 304-grade Stainless Steel – guaranteed to keep you and your family safe!

FASTER – Shreds meat quicker because the prongs don't flex like cheap plastic or nylon claws. Creates succulent pulled pork, lamb, beef, chicken and turkey in seconds!!

STRONGER – Our pulled beef claws are manufactured from a solid 2mm stainless steel plate. That's important for you, because it means they won't break under load like plastic ones can.

GRIPPIER – The solid cored handle is encased in a thick soft-touch rubber to give you maximum comfort and grip, even when wet!

HIGHER QUALITY – Premiala's extensive use of thick, high-grade stainless steel and luxurious soft-touch rubber means you'll get that great feeling of using a high quality tool, not a cheap flimsy toy.
Features

Stainless Steel Materials
The Premiala Meat Claws use food-safe 304-grade stainless steel for all food-facing components. This means you can be confident they won't rust, even when using typical aggravators like brine, they won't leach harmful chemicals into your food like aluminium and some plastics can, and of course they clean up in a flash by hand or in the dishwasher!
Luxurious Soft-Touch Handle
Shredding's a tough job, so why make it harder for yourself? The solid ABS plastic core is slathered in a thick layer of food-safe rubber, giving it a luxurious soft-touch and providing maximum grip even when the claws are wet or oily! Give your hand the soft option!
Super Strong Construction
The heart of the claw is a full 2mm thick plate of food-safe 304-grade stainless steel – those prongs will NEVER break and they're right at home tearing their way through a freshly roasted pork or turkey!  While the handle is covered in soft-touch rubber, it's hiding some serious grit – the core of the handle is solid ABS plastic, renowned for its high-impact qualities!
Dishwasher Safe
These claws are crafted from the highest quality materials – premium 304-grade stainless steel, food-safe rubber and ABS plastic. They're all designed to laugh off high temperatures and aggressive chemicals, so once you've finished a hard shredding session and they're plastered with grease and grime, just throw them in the dishwasher! Then pour yourself a cold drink, relax and smile – you invested in a high-quality Premiala product, and this is the pay-off! This is how we make life easier!
"Grill Care and Safety" eBook Included
If you love your grill you'll love this e-book, provided as a gift to all buyers of the Premiala Pulled Pork Shredder Claws! Written in conjunction with acclaimed US grilling guru and media personality Kent Whitaker, this guide will teach you how to use, clean and care for your grill or smoker to ensure optimal taste, best performance and maximum lifespan! Download your copy of "Grill Care and Safety" today!
Lifetime Warranty Available
Amazon offer a 30 day guarantee on all claws sold through their sales platform. If you have a warranty claim within 30 days of purchase please contact Amazon. Your claws come with a factory 12 month warranty, however you can extend this to a LIFETIME WARRANTY by joining the Premiala VIP club. If you have any warranty queries or claims, please contact us .
Why settle for second-best?
Premiala's Stainless Steel Pulled Pork Shredder Claws are just another great example of Premiala's proud history of creating market-leading products from high-grade materials.  They're the perfect tool for lifting and transferring meat to and from the grill or for tossing salads, and they make great gifts for BBQ fanatics.
Thousands of satisfied customers worldwide love Premiala's quality and service – so hit up one of the links below and join the Satisfaction Club today!
Where To Buy?
Gallery
Save
Save