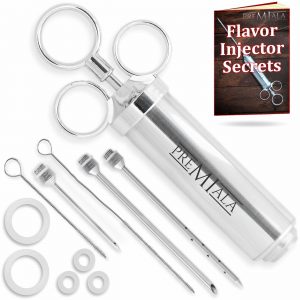 How many times have you prepared a roast turkey, BBQ'd steak or grilled chicken only to find it dry and flavorless? Frustrating, right??
$US22.95 + P&H
Well now there's an easy solution! The Premiala Meat Injector pumps marinade, wine, spices, brine or pretty much anything you like DIRECTLY INTO the meat to give you the juiciest meals ever. It's also perfect for injecting cream into scones, jam into donuts, custard into buns and for any other situation where you need flavor right inside your food! It's the trade secret used by professional chefs everywhere, and your family and friends will be amazed when they taste the difference!
It comes with a fine steak needle for injecting thin cuts of meat, plus two six-inch needles to flavorise the largest cuts of meat. There's also a fantastic instruction and recipe e-book to give you guidance and inspiration, and four spare silicon o-rings to give you years of faultless service. Finally, only the Premiala Marinade Injector gives you the peace of mind knowing every component touching the food is 100% food-safe 304-grade stainless steel.
Why Choose Premiala?
SAFER – unlike the competition, Premiala's meat injector is ALUMINUM-FREE! Even the others who claim to be 'stainless steel' still use cheap, harmful materials like aluminum and brass for some inconspicuous parts (see the picture below). Every part of Premiala's injector which touches your food is 100% food-safe 304-grade stainless steel. Guaranteed to keep your family safe!

FASTER – Pump flavors and moisture deep inside turkey, pork and BBQ cuts where they can get to work creating the juiciest, most succulent dishes your guests will have ever experienced! Garlic, brine, Cajun, honey mustard and other marinades will never have tasted better! WAY more effective than just soaking in marinade!

MORE VERSATILE – Don't be held back by a basic kit! We give you THREE different types of needles with the sharpest tips so you can marinade turkey, lamb, chicken or beef to perfection with ease! The precisely positioned holes on Premiala's injector also allow you to use our kit for injecting jelly into donuts, rum into strawberries or brine into home-cured meats!

HIGHER QUALITY – Premiala's extensive use of thick, high-grade stainless steel means you'll get that great feeling of using a high quality tool, not a cheap flimsy toy. We also include spare silicon o-rings to keep your investment going for years (more spares available) , and it's backed by a lifetime warranty! With Premiala, you know you're in safe hands.

BETTER SUPPORT – We've carefully prepared an extensive e-book to carefully guide you through every part of the injecting process, and this is our gift to you with every purchase of this injector! We also include many recipes to get you off on the right foot as you start your own flavor journey!
Features

Stainless Steel Materials
The Premiala Flavor Injector is the only unit available using food-safe 304-grade stainless steel for all food-facing components. This means you can be confident it won't rust, even when using typical aggravators like brine, it won't leach harmful chemicals into your food like aluminium or brass can, and of course it cleans up in a flash by hand or in the dishwasher! Other injectors use aluminium, iron or brass for various parts to cut costs but these don't last. Only the Premiala Meat Injector uses 304-grade stainless steel for every part of the injector which comes into contact with food!
Large 2oz capacity
The Premiala Flavor Injector has a 2oz (60mL) capacity. Most chefs recommend about 1oz (30ml) of marinade per pound (500g) of meat, so with the Premiala unit you'll spend more time injecting and less time refilling (compared to standard 1oz (30mL) units). This means more time to spend enjoying the meal and less time preparing it!
Super Strong Construction
A lot of people start off with a plastic injector, but it's not long before they realise they're just not up to the job! The Premiala's needles are from 25 gauge stainless, striking the perfect balance between minimal thickness and strength, while the barrel is constructed from beefy 18 gauge stainless steel! There's just no way you're going to break these injecting meat! See for yourself!
3 Needles
The Premiala Flavor Injector comes with three 304-grade stainless steel needles. As you read above, these are REALLY strong so you won't have to ever worry about them breaking while you're cooking up a storm, and they're also super-sharp so you don't need to force it into the meat!
The first needle is 6″ (15cm) long and designed for injecting liquid marinade into large cuts of meat (chicken, turkey, beef etc). With 12 holes around the outside you can be sure of even distribution of the marinade!
The second needle is also 6″ (15cm) long but is designed for injecting solid ingredients into large cuts of meat. This needle has an open end, allowing thicker materials like minced garlic and onion to be used in the injector.
The third needle is 3″ (8cm) long and is designed for injecting liquid marinade into small cuts of meat (steaks, kebabs etc). It has two small holes right at the end of the needle to ensure you get as much marinade into the meat and as deep as possible.
4x Silicon O-rings
So what's with the o-rings? Well the o-rings are what prevent the marinade leaking out where it doesn't belong! There's one around the end of each needle and another around the plunger inside the injector. The problem with these is that they eventually wear out and start leaking! Did you know how hard they are to find on their own? With most injectors on the market this means it's time for a whole new injector or spend ages hunting around trying to find another food-grade silicon o-ring just the right size. Do you really want that hassle and expense? With the Premiala unit you can just swap in the new o-ring and keep injecting – PHEW! We give you two o-rings for the plunger and another two for the needles. This unit's designed to last for years, if not decades, so buy with confidence knowing it has the necessary spares to just keep on going!
This is how to change the o-rings:
Recipe eBook Included
Every purchase of the Premiala Flavor Injector comes with a free download of our "Flavor Injector Secrets and Recipes" eBook. This is the best way to get started with your injector. It spends several pages stepping you through the best way to set up and use your injector, then provides you with a wide range of marinade and full meal recipes to get you off on the right foot!
Does it work?
Well, don't just take our word for it!
'This is a very high quality injector that I highly recommend to anyone!' – Richard Platzek
'The best turkey I have cooked in 28 years – it turned out wonderfully moist and succulent!' – lulu7
'After using all of the cheap plastic ones on the market, I threw ALL of them out after buying this one. There is absolutely no comparison!' – R. Kim
Lifetime Warranty
Amazon offer a 30 day guarantee on all flavor injectors sold through their sales platform. If you have a warranty claim within 30 days of purchase please contact Amazon. Beyond this period, please contact us and we will be happy to assist you with any warranty claims.
Why put up with dry meat for a moment longer?
Hit one of the links below before they sell out again, then start planning a panorama of flavor possibilities to enjoy for years to come!
Where To Buy?
…or you can purchase the Premiala Meat Injector from the following sites:
Gallery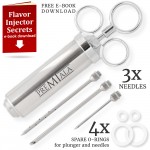 Save
Save
Save
Save
Save
Save