As part of our "Thanks!" for choosing the Premiala Flavor Injector we'd like to offer you our FREE "Flavor Injector Secrets and Recipes" eBook ($17.95 value). Apart from teaching you everything you need to know about using a Flavor Injector, you'll get delicious marinade recipes like these:
Pork, Beef or Venison Brine
Teriyaki
Five Spiced Turkey
Moroccan-style
Roast Lamb
Thyme, Mustard and White Wine
You'll also be able to look forward to amazing full-meal recipes like these:
Buffalo Turkey With Pots and Peas
Red Wine Injected Roast Beef With Injected Baked Potatoes
Roast Turkey with Herbal Rub
30-Minute Lamb Grill for Two
Teriyaki Injected Whole Chicken
Herb Injected Grilled Chicken
If you're an Amazon customer, just follow the instructions below to download your e-book. If you bought our injector elsewhere, just leave a review on Amazon as proof you've used it (you just need to have made at least one Amazon purchase sometime), then send us your email address in the comments below (it won't be published) and we'll email the book straight to you! Please contact us if you have any difficulties with this.
---
How To Download Your E-book
Already purchased your injector on Amazon.com? Welcome to an amazing world of flavor! You're about to learn so much as you start this succulent journey!
Identify which packaging your product came in: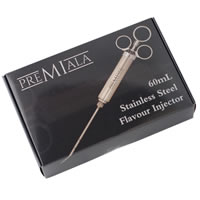 Locate the download code inside the lid, then visit the download page here and enter the download code when prompted.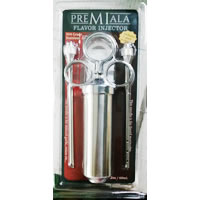 Locate the download code on the back of your product packaging, then contact us with your download code and we will send the e-book to you. This is necessary because some people have experienced difficulty with the download code.
Thank you for choosing Premiala, and happy cooking!